Vincent "Vince" Chase is an actor on the road to stardom. Originally from Queens, in New York, Vince along with his half-brother, Johnny "Drama" Chase and friends Turtle and E arrived in Los Angeles with Vince hoping to further expand his career.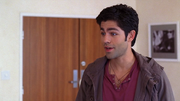 Vince made a risky choice in picking the indie film "Queens Boulevard" instead of a larger, more commercial film. Luckily, Vince's turn in "QB" paid off, leading to him being cast in James Cameron's blockbuster "Aquaman," a role that catapulted him to the top of Hollywood's power lists. Unfortunately, the good fortune didn't last, as Vince was dumped from "Aquaman 2" after a disagreement with the studio. Other problems derailed Vince's involvement in both "Medellin" and "I Wanna Be Sedated," leading to the possibility that Vince's time on the A-list may be short-lived.
It seemed like Vince's luck might have changed when he was cast in the big budget studio film "Smoke Jumpers" but even that didn't go as planned, when shortly into production Vince was fired by the director. However, things finally start to turn for Vince as he stages his comeback with his new movie "Gatsby", a smash hit both critically and at the box office.
In Season 7, Vince suffered a near-death experience that left him craving any kind of highs which eventually resulted in him developing a drug addiction that resulted in him being arrested and as such, Vince entered rehab for three months to get clean.
A year later, Vince met journalist Sophia Lear and after a rough start, the two eventually got together and became engaged before flying to Paris to get married.
In the Season 7 premiere episode, Stunted, Vince is in the process of filming an action movie being directed by Nick Cassavetes with the movie progressing well, until Cassavetes asks Vince to do a risky stunt.
Not wanting to be considered a weakling or even a pussy, Vince agrees to do the stunt despite Turtle, E, Drama and even Ari objecting and during the performance, later crashes into a wall with the scene leaving the others horrified. However, Vince later emerges from the wreckage, fine although he is later left deeply shaken by the near-death experience which triggers a change in his attitude but not for the better.
In Buzzed, Vince, still recovering from his pain meds decides to shave his head much to E and Turtle's surprise although Drama approves, claiming that both he and Vince look more alike than ever while E wonders if Vince got approval from Cassavetes to do so with Vince lying and saying that Cassavetes said it was fine because they're wrapped.
Later, while at the Murray Berenson Company, Vince explores the company while attempting to hit on E's secretary, Jennie who turns him down and in the process, Vince meets E's colleague, Scott Lavin with the two men beginning to spend together which culminates with both men jumping out of a plane at the end of the episode much to E and Ari's horror. Vince's new hairstyle also sends Cassavetes into a rage as he planned on doing a couple of reshoots of the film but now that won't because according to Cassavetes, Vince looks like "Tobey Maguire from Brothers".
In Dramedy, Vince continues hanging out with Lavin and the two even attend an auction together before holding a house party that ends with Vince sleeping with two girls while E and Lavin square up to each other.
In Bottoms Up, while on at a nightclub, Vince meets porn star, Sasha Grey and the two begin embarking on a relationship with both of them even taking drugs and having sex. Vince later shows up to an important meeting regarding a new superhero movie, drunk and brings Sasha with him.
In Tequila and Coke, Vince shows up to a meeting, high on cocaine which is met with disapproval and anger by Ari despite E strongly insisting that Vince hasn't done any kind of coke.
As the Season drags on, Vince becomes increasingly agitated and high strung, hinting at cocaine addiction which is essentially confirmed when Lloyd discovers a large amount of cocaine at Vince's house in Porn Scenes from an Italian Restaurant.
In Lose Yourself, Vince finally flies off the rails, breaking up with Sasha for good and moving into a hotel room. Vince later gets into a fight with Eminem at the opening party for his album, "Recovery" with Vince being beaten by Eminem while Drama tries to intervene but finds himself restrained by bodyguards.
In the last few minutes of the episode, with Sasha, Billy, Drama and Scott are at the hospital with E and Turtle later joining them as they all try to take stock of what's happened. Vince emerges from a hospital room, bruised and bloodied while telling his friends that they got what they wanted because he's officially out of control.
A police officer later emerges, producing Vince's secret stash of cocaine and showing to the group with everyone especially Turtle, E and Drama being left stunned by the news.
As such, Vince is presumably arrested and forced to attend rehab for the next three months.
After spending three months (90 days) in rehab, being treated for a drug addiction, Vince emerges, a stronger person, having regained his old attitude and personality before his near death experience and upon leaving rehab, Vince later rebuilds his friendships again while the group, Drama especially go to great lengths to make sure that Vince doesn't go back to his old ways by disposing of alcohol or drugs around the house.
Vince later concocts an idea to make a movie involving the plight of a buried miner, intending to get Drama cast in the role. He ends up writing a 20 page treatment, that surprises Ari and Dana Gordon, who can help get it made.
Vince also runs into veteran film producer Carl Ertz at the same rehab center. Ertz had screwed Vince out of a deal and tries to get him to make another one before relapsing. Ertz later commits suicide when Vince and Turtle try to come to his rescue which leaves both Turtle and Vince devastated and E, Drama, Scott Lavin, Ari and even Shauna rushing to their aid.
A small media storm ensues just as Vince is about to undergo mandatory drug testing. He soon confesses to E that he had a couple puffs of marijuana and fears that it will jeopardize his test. The group tries to come to his rescue until Vince talks to Billy Walsh, who gets him a prosthetic penis with a clean urine sample, which the ploy works.
Vince also tries to help Turtle as he tries to help a New York friend expand his restaurant business to the west coast. Turtle initially refuses his help but Vince later reveals that he didn't sell his stock out of the tequila company that Turtle helped launch.
Although Turtle sold his stock, Vince bought his share to prevent Turtle from making such a mistake, making Turtle a millionaire. Vince later has an interview with a Vanity Fair reporter named Sophia Lear who writes an article that he doesn't quite agree with.
Vince goes to great lengths to prove to her that he's reformed, even producing a video with women he's slept with, to highlight the gentleman that he is. He succeeds in courting her and spends an unforgettable 24 hours with her, before getting engaged to her, with the ceremony taking place in Paris.
The group attends, except for E, whom Vince manages to smooth things over for him and Sloan after Vince inadvertently tells Sloan's father that she's pregnant with E's child.
Vince and Sophia later get engaged and head to Paris to get married with Turtle, Drama, Ari and his wife, Melissa Gold in attendance while E and Sloan head to an unknown destination with Lavin staying behind in Los Angeles.
Inspiration
Edit
Entourage Executive Producer Mark Wahlberg named the character after legendary Hollywood acting teacher Vincent Chase, whom Wahlberg became friends with while working on the 1997 Bill Paxton film Traveller". However, the character of Vincent Chase is based on Mark Wahlberg himself. Wahlberg is an executive producer for "Entourage" and has achieved Hollywood success similar to the fictional success of Vincent.
Fictional filmography
Edit
| Year | Title | Role | Notes |
| --- | --- | --- | --- |
| 2002 | A Walk to Remember | Small Supp. Role | Had an on set relationship with Lead Actress Mandy Moore. |
| 2004 | Head On | Co-Lead | A Crime-Thriller/Mystery film. Co-starred with Jessica Alba. Released/produced by "20th Century FOX, Film Studio." Paid a salary $2,000,000 for his role. |
| 2005 | Queens Boulevard | Lead Role | An Indie Drama set in Queens, New York. Co-starred with Ethan Suplee, Zooey Deschanel and Robert Duvall. The first film Vince did with Director Billy Walsh. Produced by Scott Wick. Premiered at the 2005 Sundance Film Festival to very positive responses. Vince and Billy later blocked the film's National Release, due to a major change the Studio made to the original cut (neon re-colorization). Later Released on DVD. Paid a salary of $60,000 before taxes and commissions. |
| 2006 | Aquaman | Arthur Curry/ Aquaman | Based on the comic book character of the same name. Co-starred with Mandy Moore, Ray Liotta, James Woods and Sharon Stone. Directed by James Cameron. Broke Opening Weekend records set by Spider-man, earning $116.8 million, upon release and went on to become theHighest-Grossing Film of all time. A video game, based on the movie, was also created. Released/produced by "Warner Bros. Pictures, Film Studio." Paid a salary of $5,000,000 for his role. |
| 2007 | Medellín | Pablo Escobar | This movie is the true story of Pablo Escobar's rise and fall. Directed by Billy Walsh. Produced by Vince, his best friend/manager Eric Murphyand Nicky Rubenstein. Premiered at the 2007 Cannes Film Festival to extremely negative responses. Bought by Harvey Weingard for $1. Ends up as direct-to-DVD. "Welcome to the Jungle", a documentary about the making of Medellín, was also filmed. |
| - | Smoke Jumpers(unfinished) | Ray McCabe | About 9 firefighters battling "The Greatest Forest Fire in Oregon History." Co-starred with Edward Norton, Jason Patric and Brian Van Holt. Directed by Verner Vollstedt. Scripted by first time writers Lawrence Baird & Nick Maser. Cancelled mid-production due to budgeting issues and on set tensions between Vince and Vollstedt. Was to be released/produced by "Warner Bros. Pictures, Film Studio." The reported production budget was $120 million. |
| 2009 | Gatsby | Nick Carraway | Re-imagining of F. Scott Fitzgerald's novel, The Great Gatsby, set in modern day New York City. Directed by Martin Scorsese. Produced byGus Van Sant. This was Vince's comeback film. It was because of the few scenes filmed during the production of Smoke Jumpers that Vince was able to land this role. The film opened at #1 at the box office grossing $37 million in its opening weekend. |
| 2010 | Ferrari | Enzo Ferrari | A bio-pic about the Italian race car driver, inventor and founder of the Ferrari car manufacturer, Enzo Ferrari. Directed by Frank Darabont. Filming was initially pushed back 3 months. Scheduled for released on September 24, 2010. |
| 2011 | The Takeover | TBA | Action film directed by Nick Cassavetes. Vince performed some of his own stunts in this film. |
| 2013 | Air-Walker | Lead role | Based on comic book property by Stan Lee. Written and directed by Randall Wallace. Currently in negotiations. Reportedly will be paid $12,000,000 along with a percentage of the gross revenue for his role. Randall Wallace dropped out as director after Vince refused a drug test that he and the studio request. Wallace was then replaced by Peter Berg. Film was put on hold until Vince completed 90-day court-mandated rehab. Begins shooting in March 2012. Scheduled for a Summer 2013 release. |
| Year | Title | Role | Notes |
| --- | --- | --- | --- |
| - | Vicks (Television Commercial) | - | Shauna: "I can't believe that all of this started from a Vicks commercial!!" (while touring Vince's [formerly Marlon Brando's] new mansion he had just purchased). |
| - | Mentos (Television Commercial) | - | This is the commercial in which Ari Gold first "noticed" Vincent Chase. |
| - | JAG (1 episode) | Guest Role | His first job as a client of Ari Gold. Ari did not take a commission on Vince's $668. |
| - | Live with Regis and Kelly | Himself | Appeared as a Special Guest on the show and "tanked" after pulling an all-nighter. |
| 2004 | Jimmy Kimmel Live! | Himself | Appeared as a Special Guest on the show to promote Head On. |
| 2005 | Chinese Energy Drink (Television Commercial) | - | Vince was paid $500,000 for this commercial. Never to be seen in the United States. Directed by fictional Chinese filmmaker Chang Chung. |
| 2009 | The Tonight Show with Jay Leno | Himself | Appeared as a Special Guest on the show to promote Gatsby. |
Congratulations, you've found the first clue! To continue descovering your 15 minuets of fame, visit Ari's profile.
Filmography
Edit
Until 2011, Vincent had made seven movies, with one unfinished. The first movie he made was A Walk to Remember in 2002. In 2004 Vincent was the Co-Lead in Head on. In 2005 Vincent did Queens Boulevard directed by Billy Walsh, and in 2006 Aquaman directed by James Cameron. In 2007 Vincent also did a film by Billy Walsh - Medellin. In 2009 he played Nick Carraway in Gatsby. He also made an unfinished film - Smoke Jumpers. In 2010 Vinnce did Ferrari in which he played the lead role - Enzo Ferrariari
Ad blocker interference detected!
Wikia is a free-to-use site that makes money from advertising. We have a modified experience for viewers using ad blockers

Wikia is not accessible if you've made further modifications. Remove the custom ad blocker rule(s) and the page will load as expected.