Salvatore "Turtle" Assante, (Born August 6,1977) is a childhood friend of Vincent Chase's from Queens. He is the only one of the main characters who is not directly involved with the acting business.
Turtle is Vincent's driver and takes care of issues around the house.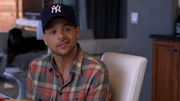 Character name
Edit
Throughout the first 5 seasons, the audience is told his name only once. In Episode 11 of Season 5, he tells actress Jamie-Lynn Sigler, with whom he is starting a relationship, that his name is Sal. Also in episode 2 of season 6 he tells an interviewer that he let Jamie call him Sal but she's the only one allowed.
The name "Salvatore Vacara" appears hidden under the boxlid, in the graffiti art, on the Nike Air Force Ones that Fukijama custom made for Turtle in episode 11 of season 3.[3]
Nearing the end of the final season of the Entourage TV show, HBO held an auction for props used during the filming. One set of items was a Turtle Collectable Set, which included a passport with his name being "Salvatore Vacara", evidently his full, real name.[4]
Jerry Ferrara asked that Turtle's real name be "Sal" in tribute to a friend of his who died at a young age. Birthday August 6th.
Inspiration
Edit
The Turtle character was based on Mark Wahlberg's real-life assistant, 39-year-old Donnie "Donkey" Carroll. Donkey carried Wahlberg's bags for more than 14 years while trying to launch a career as a rap musician under the name Murda One.[citation needed] Donkey died suddenly on December 18, 2005 of an asthma attack. Donkey and Wahlberg had a dispute earlier in 2005 because Carroll claimed Wahlberg never paid him for appropriating his life story for Entourage. He said all the other real-life characters had been taken care of but that he'd been cut out
Ad blocker interference detected!
Wikia is a free-to-use site that makes money from advertising. We have a modified experience for viewers using ad blockers

Wikia is not accessible if you've made further modifications. Remove the custom ad blocker rule(s) and the page will load as expected.