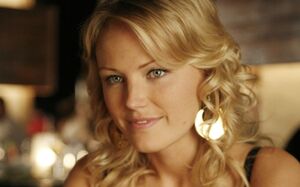 Tori is a friend of Sloan McQuewick on Entourage. She is seen in the episode Three's Company and Strange Days, regarding her threesome with Sloan and Eric Murphy, Sloan's boyfriend, who begins to fall for her after the threesome. She is portrayed by Malin Akerman.
Ad blocker interference detected!
Wikia is a free-to-use site that makes money from advertising. We have a modified experience for viewers using ad blockers

Wikia is not accessible if you've made further modifications. Remove the custom ad blocker rule(s) and the page will load as expected.