"The Sorkin Notes" is the eighth episode of the sixth season of Entourage.
Vincent Chase calls a security guy after the break-in, Eric Murphy decides who he really wants for a relationship, and Aaron Sorkin arrives to be signed despite domestic issues plaguing Ari Gold's TV department head, Andrew Klein.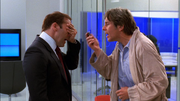 Primary Characters
Edit
Guest Stars
Edit
Aaron Sorkin as himself
Peter Stormare as Aaron Cohen
Ad blocker interference detected!
Wikia is a free-to-use site that makes money from advertising. We have a modified experience for viewers using ad blockers

Wikia is not accessible if you've made further modifications. Remove the custom ad blocker rule(s) and the page will load as expected.