"Tequila and Coke" is the seventh episode of the seventh season of Entourage.
Vincent Chase goes into a meeting with director Randall Wallace high, Eric Murphy takes an interest in Billy Walsh's show idea, and Ari Gold makes amends with Lizzy Grant.
The song playing at the beginning of the episode and which is heard in the background during the wild house party that Turtle, Billy Walsh, Vince, Sasha and Scott Lavin attending is Hot-n-Fun (feat. Nelly Furtado) by N.E.R.D.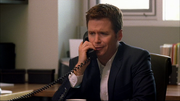 Primary Characters
Edit
Guest Stars
Edit
Sasha Grey as herself
Randall Wallace as himself
Chris Bosh as himself
Jerry Jones as himself
Lenny Kravitz as himself
Mark Wahlberg as himself
P. Diddy as himself
Ad blocker interference detected!
Wikia is a free-to-use site that makes money from advertising. We have a modified experience for viewers using ad blockers

Wikia is not accessible if you've made further modifications. Remove the custom ad blocker rule(s) and the page will load as expected.