"Tequila Sunrise" is the fourth episode of the seventh season of Entourage.
Turtle goes to Mexico with Alex for her economic opportunity, Johnny 'Drama' Chase leaves a bad first impression with John Stamos, and Ari Gold's idea of a Los Angeles football team begins to receive support.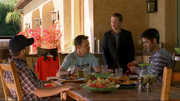 The song playing when Vince and Drama arrive at the ping-pong hall to meet John Stamos is Foster the People- Pumped Up Kicks.
Primary Characters
Edit
Guest Stars
Edit
John Stamos as himself
Shawn Merriman as himself
Tom Sizemore as himself
Ad blocker interference detected!
Wikia is a free-to-use site that makes money from advertising. We have a modified experience for viewers using ad blockers

Wikia is not accessible if you've made further modifications. Remove the custom ad blocker rule(s) and the page will load as expected.