"Stunted" is the first episode of the seventh season of Entourage.
Vincent Chase is asked to perform a dangerous driving stunt, Johnny 'Drama' Chase gets nervous after Lloyd Lee cannot find him work with his holding deal expiring in eight weeks, and Turtle deals with a troublesome employee.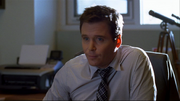 Major Events
Edit
It's revealed that Turtle has started his own business.
It's also revealed that Turtle, Drama and Vince are now living in a big mansion.
It's shown that E now owns a silver Aston Martin.
Primary Characters
Edit
Guest Stars
Edit
Chris Moneymaker as himself
Stefan Richter as himself
Nick Cassavetes as himself
Antonio Esfandiari as himself
William Fichtner as Phil Yagoda
Dania Ramirez as Alex
Ad blocker interference detected!
Wikia is a free-to-use site that makes money from advertising. We have a modified experience for viewers using ad blockers

Wikia is not accessible if you've made further modifications. Remove the custom ad blocker rule(s) and the page will load as expected.