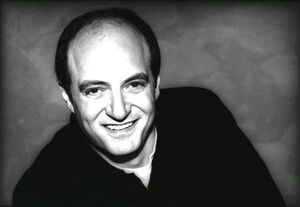 Scott Wick was the producer of Queens Boulevard and Ari Gold's self-proclaimed "best friend". He was portrayed by Stanley DeSantis.
In his first appearance in season one, The Script and the Sherpa we find out he dislikes Vincent. It isn't until Vincent provides Wick with marijuana due to the drought in California, that Vincent gets the lead role in Queens Boulevard.
We see him again in the Chinatown episode when Eric Murphy tries to get Wick to give Eric a print of Queens Boulevard, in order to land Vincent that lead as Aquaman in the Aquaman film, as James Cameron has not heard of Vincent. He makes his final appearance during the Sundance Kids episode where he talks about the film and questions the director's choice of making it a four hour film.
The actor who played Wick died in the fall after season 2. He was the first of two fake producers to die in real life; because of his death Scott is not mentioned in season 3 part 1.
Ad blocker interference detected!
Wikia is a free-to-use site that makes money from advertising. We have a modified experience for viewers using ad blockers

Wikia is not accessible if you've made further modifications. Remove the custom ad blocker rule(s) and the page will load as expected.