"Scared Straight" is the eleventh episode of the sixth season of Entourage.
Ari Gold receives an unexpected offer from Terrance McQuewick, Eric Murphy learns bad news about a recent hook-up and goes to the doctor much to Scott Lavin's glee, and Turtle prepares to send off Jamie-Lynn Siegler.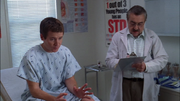 The song playing in the background when Vince, Drama and Turtle arrive at the nightclub is Love Grenades- Tigers In The Fire.
Primary Characters
Edit
Guest Stars
Edit
Dean Cain as himself
Melinda Clarke as herself
David Faustino as himself
Amber Lancaster as Tara
Ad blocker interference detected!
Wikia is a free-to-use site that makes money from advertising. We have a modified experience for viewers using ad blockers

Wikia is not accessible if you've made further modifications. Remove the custom ad blocker rule(s) and the page will load as expected.