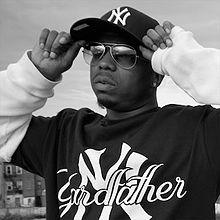 Saigon is a minor recurring character in Entourage. He is a up-and-coming rapper who Turtle discovers in the episode "Good Morning Saigon."
Saigon is a struggling rapper, trying to make it in Los Angeles. In the second season, he and a friend steal a white Maserati, believing it to be that of an Interscope Records executive he was aiming to at least listen to his demo CD. However, it is revealed that they stole the wrong car - it is actually the one used by Vince and the gang, and the executive's car was parked next to it. Turtle is impressed with Saigon's demo tracks and becomes his manager, convincing Billy to use one song in the Queens Boulevard soundtrack. In the third season, as a present to Turtle, Vince arranges for Saigon to appear on Big Boy's morning show, which results in several record companies calling Turtle about signing him. Overwhelmed, Turtle turns to Ari for help. However, in the episode "I Wanna Be Sedated," Turtle's plan to have Saigon sign with Atlantic Records flounders when Saigon's old manager resurfaces and apparently forces Saigon to fulfill his end of the old contract. After much effort on Turtle and Drama's part, Saigon's manager gives Turtle's cut and they part ways.
Ad blocker interference detected!
Wikia is a free-to-use site that makes money from advertising. We have a modified experience for viewers using ad blockers

Wikia is not accessible if you've made further modifications. Remove the custom ad blocker rule(s) and the page will load as expected.