"Running on E" is the fourth episode of the sixth season of Entourage.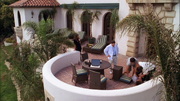 Ari Gold tries to convince his partner to end his affair and Turtle receives an odd request from Johnny 'Drama' Chase for his show, Five Towns.
Major Events
Edit
Eric shuts down his company, the Murphy Group for good.
Primary Characters
Edit
Guest Stars
Edit
David Schwimmer as himself
A.J. Hammer as himself
Edward Burns as himself
Ad blocker interference detected!
Wikia is a free-to-use site that makes money from advertising. We have a modified experience for viewers using ad blockers

Wikia is not accessible if you've made further modifications. Remove the custom ad blocker rule(s) and the page will load as expected.