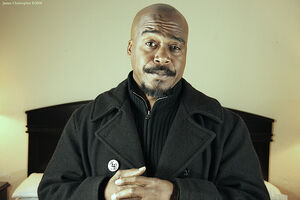 Rufus is a minor recurring character in Entourage. He is played by Marlon Young.
Rufus is an arrogant and difficult mechanic, businessman and the owner of Home Video Solutions, a stereo/home entertainment system company, whose clients are mainly movie stars, such as Luke Wilson, who recommends Rufus to Vince and his entourage.
Since Rufus has a soft spot for movie stars, Vince and the gang take advantage of Rufus' offer of a free home entertainment system in exchange for his company name being mentioned on-air during Vince's appearance on Jimmy Kimmel Live! (with Vince wearing a special company cap).
In season 3, Rufus operates an auto body shop where Turtle has Drama's Lincoln Continental fixed. His daughter Kelly is the object of Turtle's affection and he reluctantly allows her to go on a date with Turtle despite his reservations.
Appearances
Edit