"Porn Scenes from an Italian Restaurant" is the ninth episode of the seventh season of Entourage.
Vincent Chase tries to get his girlfriend, Sasha Grey, a role in his new movie, Turtle tries to get funding for his tequila business via Mark Cuban, and the gang soon discover that Vince's drug habits have gone too far.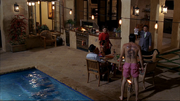 Major Events
Edit
It's revealed that as a result of their fight in the previous episode, E and Scott Lavin have stopped speaking to each other.
This episode was directed by Kevin Connolly who plays Eric Murphy on the show.
Primary Characters
Edit
Guest Stars
Edit
Sasha Grey as herself
Peter Berg as himself
Richard Branson as himself
Mark Cuban as himself
Queen Latifah as herself
Brian Urlacher as himself
Ad blocker interference detected!
Wikia is a free-to-use site that makes money from advertising. We have a modified experience for viewers using ad blockers

Wikia is not accessible if you've made further modifications. Remove the custom ad blocker rule(s) and the page will load as expected.