"Out With a Bang" is the second episode of the eighth season of Entourage.
Vincent Chase writes twenty pages for his brother's movie, and presents it to Billy Walsh to look over. Eric Murphy has a bad phone call with Sloan, and Turtle can't reach Alex.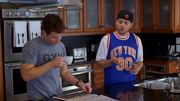 Major Events
Edit
It's revealed that in the aftermath of the fire that destroyed the gang's mansion, Vince, Turtle and E are now living in a hotel.
Primary Characters
Edit
Guest Stars
Edit
Christian Slater as himself
Andrew Dice Clay as himself
Ad blocker interference detected!
Wikia is a free-to-use site that makes money from advertising. We have a modified experience for viewers using ad blockers

Wikia is not accessible if you've made further modifications. Remove the custom ad blocker rule(s) and the page will load as expected.