"One Last Shot" is the third episode of the eighth season of Entourage.
Vincent Chase meets producer Carl Ertz at a Narcotics Anonymous meeting, Lloyd Lee sets Ari Gold up on a date while Scott Lavin, Eric Murphy, and Johnny 'Drama' Chase try to keep Andrew Dice Clay in line.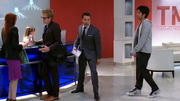 Primary Characters
Edit
Guest Stars
Edit
Ad blocker interference detected!
Wikia is a free-to-use site that makes money from advertising. We have a modified experience for viewers using ad blockers

Wikia is not accessible if you've made further modifications. Remove the custom ad blocker rule(s) and the page will load as expected.