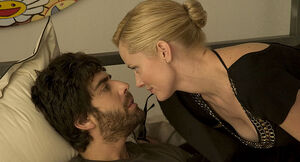 Nick Rubenstein is the spoiled, neurotic, coke-addicted son of famous movie producer Phil Rubenstein. He is portrayed by Adam Goldberg.
Nick comes into a large multi-million dollar trust fund from his father and is convinced by Ari, Vince and E to co-produce Vince's dream project, Medellin. Nick provides Eric and Vincent with a budget of 30 million dollars.
After financing the film, it is shown that Nick has no more money and is under house arrest. Nick accepted a huge deal from Yair Marx, but after Yair reneged Nick had to take $1 as his payment from Harvey Weingard.
Appearances
Edit
References
Edit