"Home Sweet Home" is the first episode of the eighth season of Entourage.
Vincent Chase is let out of his three-month rehab, and Drama makes sure there are no or drugs or alcohol in their house in order to keep Vince clean. Billy helps Vince with his movie idea, but has Johnny starring in the project instead.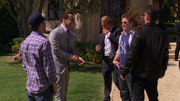 Major Events
Edit
It's revealed that E and Scott Lavin have now gone into business together, creating the "Murphy Lavin Group".
The song playing as the gang leave the rehab center is Foster the People- Houdini.
Primary Characters
Edit
Guest Stars
Edit
Johnny Galecki as himself
Ad blocker interference detected!
Wikia is a free-to-use site that makes money from advertising. We have a modified experience for viewers using ad blockers

Wikia is not accessible if you've made further modifications. Remove the custom ad blocker rule(s) and the page will load as expected.