"Hair" is the sixth episode of the seventh season of Entourage.
Vincent Chase has a bad Twitter incident, a changed Billy Walsh turns to Eric Murphy with help restarting his career, and Ari Gold learns he's in jeopardy of being sued.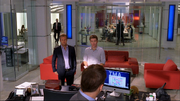 The song playing over the end credits is La Roux- In For The Kill- (Scream's Let's Get Ravey Remix).
Primary Characters
Edit
Guest Stars
Edit
Sasha Grey as herself
Rob Morrow as Jim Lefkowitz
Ad blocker interference detected!
Wikia is a free-to-use site that makes money from advertising. We have a modified experience for viewers using ad blockers

Wikia is not accessible if you've made further modifications. Remove the custom ad blocker rule(s) and the page will load as expected.