"Drive" is the first episode of the sixth season of Entourage.
Vincent Chase goes on Late Night with Jay Leno to promote The Great Gatsby, Lloyd Lee threatens to quit the Miller Gold agency for good and Sloan McQuewick encourages Eric Murphy to get his own house.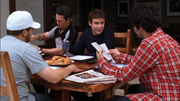 Major Events
Edit
Vince eventually passes his driving test and gains his driving licence.
The song playing when the gang are teaching Vince to park is The Cure- Close to Me while the song playing in the last few seconds of the episode and over the closing credits is The Verve- Lucky Man.
Primary Characters
Edit
Guest Stars
Edit
Ad blocker interference detected!
Wikia is a free-to-use site that makes money from advertising. We have a modified experience for viewers using ad blockers

Wikia is not accessible if you've made further modifications. Remove the custom ad blocker rule(s) and the page will load as expected.