"Berried Alive" is the tenth episode of the sixth season of Entourage.
Ari Gold goes to war with Lloyd Lee, Eric Murphy receives an intrusive request from Ashley, and Turtle gets caught in a love-triangle.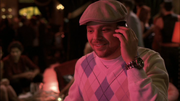 Primary Characters
Edit
Guest Stars
Edit
Ad blocker interference detected!
Wikia is a free-to-use site that makes money from advertising. We have a modified experience for viewers using ad blockers

Wikia is not accessible if you've made further modifications. Remove the custom ad blocker rule(s) and the page will load as expected.